Why buy a Tab? when you can actually make your phone as a Tab to watch movies or attend online lectures!
Mobile Phone 3D Screen Magnifier Eyes Protection, F2 Telescopic Mobile Lens Compatible for All Mobile.

Auli Curved screen design leads the trend design,multi-angle view whether you sit or lie down.

Auli Free expansion design is easy to use, It is small and portable, suitable for use on various occasions.

Totally Enclosed Designed, All-Round Lock Source To Improve Screen Brightness, Effectively Prevent The Reflective Image.

Foldable And Flexible Designed, Light Weight, Simple Appearance Makes It Very Portable And Attractive.

Easy to use.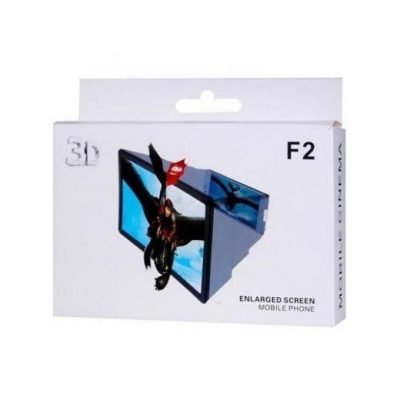 Max out your entertainment with Portable Screen Magnifier™.
A Portable Screen Magnifier that enlarges the screen of your smartphones or tablet, and lets you watch anything without straining your hands.
Portable Screen Magnifier™ is designed to retract and expand for easy storage and carrying. Watch your favorite YouTube videos, binge-watch your favorite T.V. shows, movies, and much more. Apart from freeing your hands, it enables a safe viewing distance to your keep your eyes unstrained. Equipped with a Fresnel lens, its massive 12-inch screen allows ultimate magnification.
So, if you are a fan of reading articles or streaming videos online, Portable Screen Magnifier™ will instantly boost your viewing experience.

FEATURES
Light and Compact: Being only 150g, it is very easy to store it or carry it on the go. Expand it whenever you want and place your phone inside. It can be retracted easily to a compact size which adds to its convenience.

Innovative Design: Provided with an optional stand on the bottom. The stand gives you a slanted angle for convenient and suitable viewing, making it perfect to read news or e-books, articles, and blogs on your smartphone.
Fully Compatible: Designed to fit all smartphones and tablets, whether it's an android phone, iOS, or windows phone. It is like using your phone with a magnifying glass or having a personal movie projector all the time.
Premium Quality: Made with high-grade ABS, Magnifone™ ensures sturdiness and durability. Use it at home, in a car, outdoors, on camping, while traveling, or simply.
OUR GUARANTEE: You can buy safe with confidence by knowing that Inspire Hunt is a Google Trusted Store and offers a 100% delivery guarantee or your money back. Terms and Conditions apply.