Features:

Sweat instantly
Adjustment levels
High back support
Helps correct posture
Double resistance band
Abdomen and back covers
Comfortable for daily use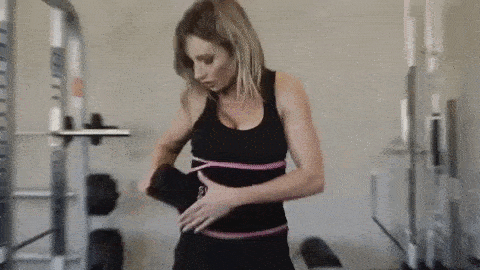 Use Principle:
Wearing the weight loss belt in the exercise can help increase the temperature of subcutaneous fat, make the blood circulation faster, accelerate the oxidative decomposition of fat, increase the consumption of subcutaneous fat calories, greatly improve the fat reduction effect through the exercise.
Assuming you usually exercise for half an hour, the waist subcutaneous fat consumes 100 calories; then you exercise for the same exercise time and intensity with the belt, you can consume 200 calories, exercise effect doubles.
Turn up the heat and bring noticeable improvements!
Introducing Sweet Sweat waist trimmer belt to boost up sweating and help you achieve your target faster than ever.
Sweet Sweat is designed to enhance your workout by accelerating thermogenic activity and sweat. It can be wrapped around the belly to increase blood circulation, speeding up the warm-up and recovery time. It also provides much needed abdominal and spinal support while running or working out to prevent you from back injuries.
So, get your sweat on with Sweet Sweat!
FEATURES
Ergonomic and Efficient: Made from latex-free Neoprene, this vest will retain the body heat when your exercise and make you sweat more. This will burn fat and calories off your abdomen, waist, and back region three times faster.
Universal Fit: Free-size, unisex, and naturally flexible to adjust to every size and shape. Use the wide velcro strap to lock it around your waist comfortably during exercise, it does not restrict your movement at all.

Always Undetected: Whether you are heading off to work or going to the market, wear it under your normal clothes to give support and warmth to your entire abdominal area. It increases your core temperature to keep you up with losing fat and calories.
Versatile: The vest can be worn during a workout session or minor exercises. You can also wear it while doing yoga or as daily wear to rid of the belly fat. An excellent way to get rid of the extra belly and waist fat.

Breathable Mesh: Retains body heat but without sticking to your skin. Stays dry on the outside hence increasing the comfort level altogether. Keeps the heat trapped even if you are not working out.
Premium Quality: Made with high-grade latex-free neoprene, Sweet Sweat ensures sturdiness and durability. Provided with double velcro for extra tissue support and a non-slip inner layer to prevent slipping during exercise.
OUR GUARANTEE: You can buy safe with confidence by knowing that Inspire Hunt is a Google Trusted Store and offers a 100% delivery guarantee or your money back. Terms and Conditions apply.