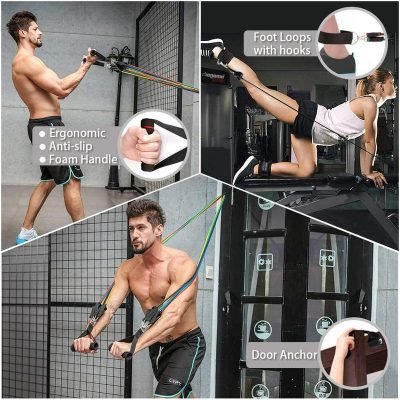 INSPIREHUNT™ Pro, an 11-piece resistance band set with which you can get a full-body workout anywhere without buying expensive or bulky equipment.
Designed for different muscle groups, Exowire™ Pro can be used in countless ways for whole-body workouts. No more neck and back pain, no more gaining extra weight due to lack of activity, use it every day to improve your posture, strength, and flexibility. Sturdier than you think, you don't have to worry about snapping them. So, turn your house into a personal gym, get Exowire™ Pro.

FEATURES
Adjustable Weight Resistance: With 5 different-colored bands that offer different strength and flexibility, it lets you adjust the intensity of your workout. Combine the bands to further increase the resistance.
Essential Attachments: Features soft foam handles for a comfortable grip and ankle straps for leg and hip workout. It also comes with an over-the-door attachment for safe and stable flexing.
Lightweight and Portable: Compact in size, you can carry it anywhere. The set comes with an easy-to-store bag. Whether you are up for a full workout or have just a few spare minutes, it is the perfect solution for you!

Multipurpose: Great for muscle strengthening, muscle toning, fat burning, rehabilitation, or a quick workout. Use it at home, in the gym, in the park, or wherever it's convenient for you.
Premium Quality: Made with heavy-duty latex rubber, Stainless Steel, and Eva foam, Exowire™ Pro ensures sturdiness and durability. Boost up your immunity, and maintain your health simply anywhere.

OUR GUARANTEE
You can buy safe with confidence by knowing that Inspire Hunt is a Google Trusted Store and offers a 100% delivery guarantee or your money back. Terms and Conditions apply.